Featured
For Sale
Freedom Awaits You! Own this 1 Acre Gem in Chambers right off the US 191
Payment Options
Payment Note(s)
If you are interested in reserving this parcel, click "Reserve Now" button for any of the payment options. You will be redirected to our payment page to make the initial reservation down payment. All payments will also include a $249 non-fundable processing fee. If you are doing a cash transaction the balance of the cash price will be due within three days of the down payment. If you are completing an owner financed purchase your first payment will be due 30 days after the down payment. We will forward you all closing paperwork upon payment receipt. Paperwork will be sent you you via SignNow within two business days. Once you reserve the property no one else can buy it.
Description
Pull up your RV on this stunning location in Bell Brand Ranches in Apache County, Arizona. This property is nestled just on the corner of US-191. With easy access to the center of the town of Chambers, you are close to shops, stores, schools and other major establishments in the area.
Surrounded by brilliant views, this secluded land is the perfect place to get away from it all. With so much character and panoramic landscapes, this property will put you at ease. Convenient highway access makes it an ideal spot to set up camp or pull up your RV. The charming small town of Chambers is just a five-minute drive down the road so you can gas up and hit the road for some outdoor adventure.
What are you waiting for? Call us now to learn more about this offer!
Property Information
Legal Description
BELL BRAND RANCHES UNIT 12 Lot: 17
Features
Coordinates
35.2112° N, 109.4395° W
Purchase Information/Fees
$249/ one time
Document Fee
An additional doc fee of $249 to reserve the property is required to begin the paper work and purchase process. This is a non-refundable fee.
$0
Closing Fee
There are no closing cost if closing directly with seller.
$10
Misc Fee
For owner financing there is $10 fee to process monthly payments
Nearby Attractions/City
Petrified Forest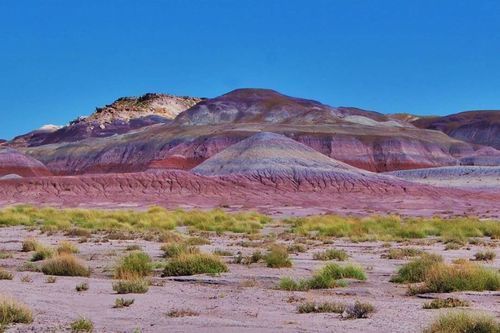 Notes
RVs allowed